On March 25, 2022, GosuncnWelink announcedthe launch of GM520, a new generation of LTE Cat.4 module, for the globalmarket. The GM520 module is developed based onASR1803 chip platform with leading performance andmature reliable production capacity guarantee. Togetherwith the ME3630 and GM510 module series, GM520 will provide high-quality LTECat. 4 communication service for the global market.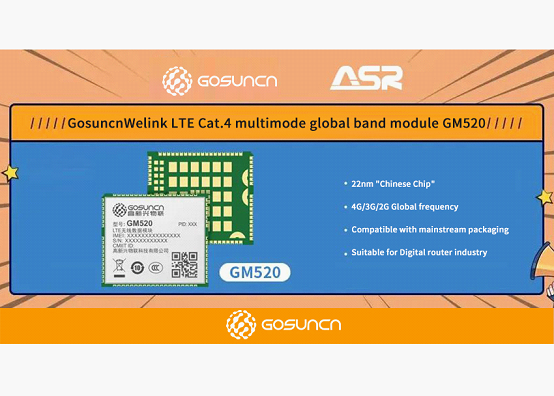 GM520module is fully compatible in software and hardware design to meet thecommunication technology needs of many IoT industries in China and overseasmarkets, which realized fast, efficient and flexible integrated application.


Module GM520
l GM520 module adopts LCC+LGA 29×32mm SMTpackage, which is compatible with the mainstream packaging design in theindustry and is convenient for users to quickly realize the terminalsolution. Italso supports standard Mini PCIe plug-in packages for flexible installation.
l GM520provides flexible 4G, 3G, and 2G band combinations for carrier networks indifferent regions, ensuring connectivity quality while effectively reducingcosts;
l In order to satisfy the users designrequirements of the industry, GM520 supports abundant hardware interfaceincluding PCM/AUDIO/USB/UART/SDIO/I2C/SPI/USIM/RMII/RGMII/ADC, and providesreference design to facilitate customers to quickly realize the integration ofsolutions;
l For application protocol, GM520 can supportkinds of network protocols including HTTP/TCP/UDP/FTP/MQTT/PAP/CHAP/PPP, aswell as standard file system function at the same time which can enrichcustomer usage scenarios.
l GM520 supports standard HTTP/FTP remoteupgrade function, good maintainability can reduce users' comprehensiveoperation and maintenance cost.
The GM520 is based on ASR1803 chip platform,which uses a more advanced 22nm process to improve the performance of theprocessor, expand the performance in audio processing, communication interfaceand other aspects, and support PCIE interface circuits and 100M/1000MEthernet. At thesame time, ASR1803 uses the innovative baseband RF integration technology tointegrate the independent RF and baseband chips in LTE Cat.4 communicationproducts into a single chip for the first time in the world, resulting insmaller grain area, lower power consumption and more competitive advantages inthe market.
It is worth mentioning that ASR1803's moremature, reliable and stable 22nm process ensures sufficient supply of GM520modules for customers in a semiconductor industry facing tight supply. At present, ASR1803 chipset has achieved large-scale application inChina and overseas markets, and "The Chinese chip" has been widelyrecognized in the high-end market.
Based on the previous generation of products,GM520 module is specially designed for the business needs of industrial datatransmission and CPE industry. The 4G/3G/2G multi-mode and full bandcombination guarantees reliable connectivity in the different networkenvironment of Europe, Middle East, Latin America, Asia Pacific and other regions.The domestic version of 4G ONLY can provide better cost performance. Thepeak data transmission rate of 150Mbps downstream/50Mbps upstream providesusers with efficient connection guarantee. The GM520 supports Ethernet, SDIO,PCIe and other hardware interfaces, as well as extended support for analogvoice.
Global cellular mobile communication iscontinuously evolving from 4G to 5G, while LTE Cat.4 still has strong vitalityin Europe, Asia, Latin America and other regions due to its good network coverage,reliable communication connection and efficiency ratio, and occupies themainstream position in CPE and industrial gateway industries. According to the TSR report, the LTE Cat.4 CPE market still maintains9.4 million units of capacity in 2022! The excellent performance of GM520 module will be the bestcommunication solution for customers in the data transmission routing industry.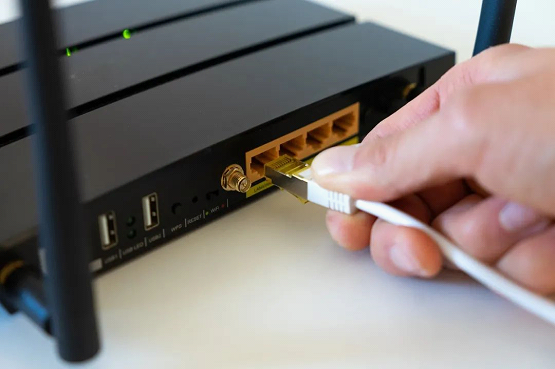 GM520 provides quality communicationsolutions for the data transmission routing industry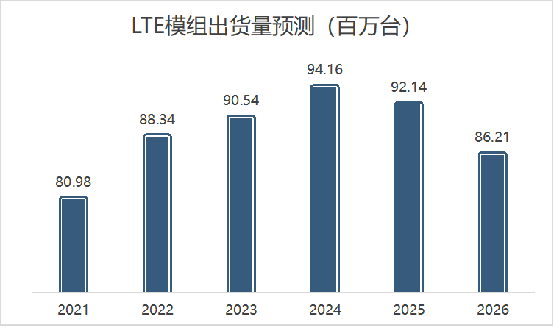 Global LTE Module Shipment Forecast (Source:TSR)
Asthe backbone of high speed technology in cellular communication, LTE Cat.4module has maintained a continuous growth trend in recent years and has beenwidely used in many fields such as connected vehicles, security monitoring,industrial IoT, financial payment and so on. According to TSR data, globalshipments of LTE Cat.4 modules will reach 88 million units in 2022 and climb tomore than 90 million units in the next few years. With the introduction ofGM520 module, GosuncnWelink LTE Cat. 4 modulefamily continues to grow, bringing more and better communication connectionchoices to industry users!