LTE Cat.1 | GosuncnWelink Provides Reliable Communication to Smart Electricity Safety Management
The rapid development of IoT technology has brought newdevelopment opportunities to the field of energy saving technology. With the help of emerging technologies,building intelligent energy management system has become a trend to promoteenergy saving and consumption reduction and realize detailed management ofenergy consumption. During the progress of electricity utilization, intelligent power management system can doreal-time monitoring, dynamic analysis and centralized management of energydissipation for office, family, enterprise and other units through integrateduse of modern communication technology, energy IoT technology and the demandside management measures which can enhance the level of energy management,reduce the energy consumption and save electricity costs.
Aiming at the smart electricity demand in parks and families,Risecomm has developed a new generation of smart circuit breaker 4G gateway,which integrates the LTE Cat. 1 module of GosuncnWelink. With stable andreliable 4G network connection, functions such as remote alarm, monitoring andintelligent circuit breaker management can be realized.
This Risecomm intelligent circuit breaker 4G gateway is easyinstallation with a replaceable card slot. The RS485 interface enables datainteraction with other devices. Through the built-in LTE Cat. 1 module, thegateway can realize bidirectional and reliable communication with the mainstation system. It can receive instructions from the main station system,conduct unified data query in the monitoring main station/APP, manage and control intelligent circuit breaker, and provide scientificdecision-making basis for electricity safety supervision.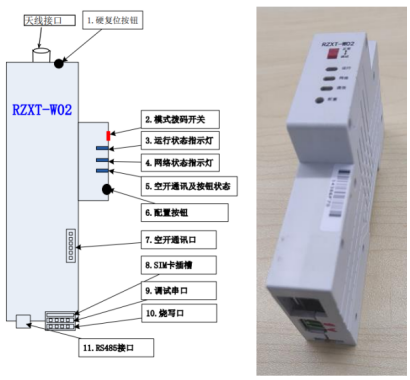 Risecomm intelligent circuit breaker 4G gateway products (Built-inLTE Cat. 1 module)
Risecomm intelligent circuit breaker 4Ggateway is easy to install and can be used with power /1P circuit breaker andleakage protection circuit breaker. The LED indicator can display and feedbackthe running status, which is convenient for use and troubleshooting.
l Uplinkcommunication to realize the link with the main station and APP
l Downlinkcommunication manage all air switches and leakage protection
l Supportfast implementation of multi-protocol conversion
l SupportSIM NANO small card, support 4G (LTE Cat.1) communication mode
l Supportquick installation, configuration and internet access with APP
l Supportremote control function
l Real-timereporting function of air switch fault alarm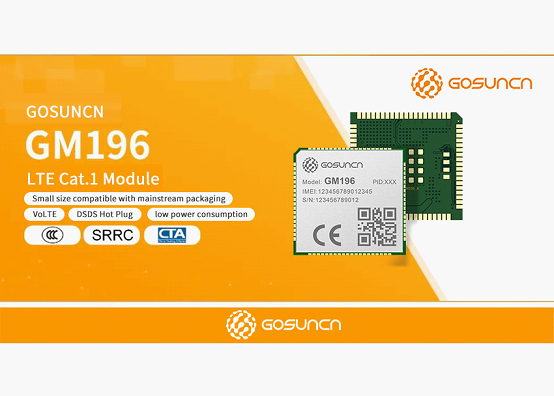 GosuncnWelink LTE Cat. 1 module GM196 adopts 22.9×21.9mm smallsize LCC package, which is compatible with the mainstream package scheme in theindustry. GM196 can support LTE full netpass band, dual-card dual-standby andVoLTE, and supports rich peripheral interfaces and various types of networkprotocols (TCP/UDP/FTP(S)/ HTTP(S)/FILE/MQTT/SSL/TLS, etc.). Forintelligent air switch and other remote monitoring and control products in theInternet of Things industry, GM196 module ensures that customers' Internet ofThings devices are online for a long time and run smoothly through remotewake-up and remote upgrade capabilities.
About Risecomm

Risecomm Group, is a High and New Technology Enterprise ("HNTE")which engages in scientific research, product development and the provision oftechnical services. The Group's headquarters is situated in Shenzhen, the PRC. The Group provides two major businesses to the market: (i)Automatic Meter Reading ("AMR") business (including provision of PLC-relatedsystem-on-chip ("SOC") integrated circuit ("IC"), PLC modules and other AMRproducts), which has maintained a leading position in market application ofState Grid Corporation of China over the years; and (ii) Smart EnergyManagement ("SEM") business (including streetlight control, building energymanagement and photovoltaic power management) which has been widely used in themarket.