GosuncnWelink's automotive grade 5G&C-V2X module GM860A won the IOTE2021 Gold Award
October 23, 2021, during the 16th International Internet of Things Exhibition in Shenzhen, the organizers of IOTE2021 issued the list of IOTE Gold Award winners. GosuncnWelink's automotive grade 5G&C-V2X module GM860A won the Gold Award (Innovation Product) of IOTE2021!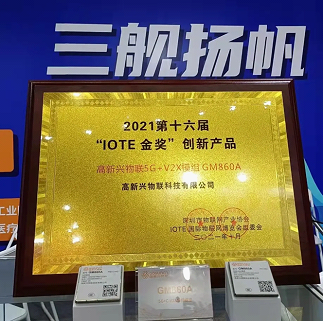 5G&C-V2X module GM860A is a new product of GosuncnWelink. It isalso one of the first modules based on Qualcomm's 5G chip platform SA515M. The R&D work of GM860A started in 2019 and in 2020, the module took the lead inimplementing 5G+C-V2X concurrent services, and was the first to complete theIMX8 automotive grade platform adaptation. In 2021, the GM860A module was the first to pass CCC, NON-committee-approved and network access certification.With leading R&D progress and reliable product quality, the GM860A module has already in the phase of 5G commercial deployment with OEM customers.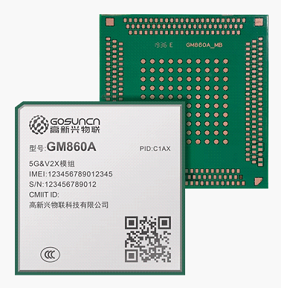 GM860A module is in LGA 46×49mm form factor, supports 5G NR sub-6ghz global frequencyband, and is compatible with 4G/3G/2G standards, as well as C-V2X+ITS to ensure seamless network coverage. GM860A has passed the high reliability environmental requirements of the automotive grade, and has completed 1500 hours ofhigh-temperature operation tests in 2020.In terms of functions and hardware interfaces, GM860A can support VoLTE, FoTA, MF-GNSS, RTK, QDR, RGMII and etc., helping intelligent connected vehicles to achieve 5G+C-V2X network communication performance of high speed, high reliability and seamless coverage.
In recent years, GosuncnWelink continues to make breakthroughs in the area of connected vehicle, and has delivered a total of millions of automotive grade modules. IOTE Gold Award (Innovation Product) is the industry's recognition of GosuncnWelink's products and technical strength. GosuncnWelink will continue to provide more, smarter, more secure and reliable wireless connectivity products and services to industrial partners.