4G smart wireless router | A small box has a big wisdom, allowing you to work and entertain at the same time
A person sits on a noisy train on a business trip, processes documents sent from the office thousands of miles away, one-clicks to share a just finished document to multiple persons, watches massive movies offline when gets bored, and charges the mobile phone instantly when the electricity is low. What's more, it serves powerful mobile Wi-Fi. Isn't this new smart router cool enough?
With the rapid development of mobile Internet, "smart" and "multi-use" mobile terminals have become one of the popular demands of consumers nowadays. As a fundamental device for a home wireless network, the conventional router is often criticized for its simple functions and monotonous appearance. In recent years, when major Internet companies are scrambling to enter the router market with their existing information control technologies, consumers are increasingly concerned about user experience and information security.
Under this circumstance, this smart router with the "black technology" that is absent in conventional routers emerges. It integrates six major functions into a 25 mm thick box: wireless network, remote access, file sharing, portable heater, portable power source, and cloud storage hard disk.
This smart router includes a compact and ultra-thin ME3630 LTE Cat.4 module provided by Gosuncn IoT. The compact package, industrial-level wide temperatures, and reliable hardware and software of the module ensure high-speed and stable data services on the smart router.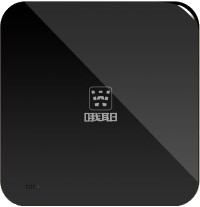 OYE-0006 Thin, fashionable, and simple
Wireless repeaters are always the key to a router. Consumers are most concerned about Internet access speed, signal strength, and connection smoothness. This smart router can be connected to an existing Wi-Fi signal, emit the signal, and amplify weak signals. Automatic prevention of IP address conflicts and automatic change tracking are two advantages of smart routers. Users can get rid of the tedious steps of changing IP addresses and the worry about account theft.
Apart from the basic functions, this smart router provides a wealth of powerful additional features: NAS file and print sharing, advertising demonstration, free voice switches,video playback, video surveillance, intranet penetration, IoT communications,private cloud storage, smart home, mobile Wi-Fi signal amplification, and power supply using PoE network cables. Apparently, it has made a breakthrough and evolved into a standalone small server.
Excellent office performance is the greatest convenience for users. Users on a business trip can gain access to the smart router in an office a thousand miles away and remotely extract and write data into files. This feature attributes to the premium performance of ME3630: The power-saving module allows the router to have long battery life, and the ubiquitous LTE Cat.4 network access enables massive, secure, and high-speed data transmission. The router also guarantees efficient and convenient telecommuting. When it is connected to an external camera, users can remotely monitor the office by using a mobile app.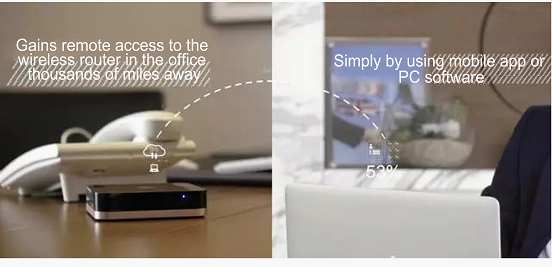 Telecommuting and File Sharing
Regarding entertainment, this smart router is the first in the industry to integrate an SSD that can store more than 2000 movies. Consumers can carry the compact and portable smart routers with them and connect mobile phones to it without consuming any traffic of mobile phones, even when the users are traveling outside, on high-speed trains or buses. A maximum of 30 mobile phones can be connected to a router, allowing you to watch movies at any time and anywhere. In addition, users can one-tap the app to transfer photos on a mobile phone to the cloud disk built in the router, thus greatly saving the space of the mobile phone. As a mobile power source, its large capacity battery can be used to charge mobile phones or other devices, thus instantly meeting the pressing needs of users.
Apps can be upgraded. How about the router?
Routers comparable to servers often face version upgrades. However, it is usually difficult to disassemble built-in modules. In view of this problem, the ME3630 module demonstrates its unique technical advantages by supporting FOTA upgrade. Conventional FTP-based FOTA is restricted by the quantity of connections. However, excessive connections deteriorate user experience. To address this, ME3630 adopts the UDP-based FOTA system built by Gosuncn IoT, to support massive concurrent connections. When the router needs to upgrade, the ME3630 will connect the router to the cloud and request the software split package. After the software split package is downloaded, the module will perform the integrity check. When the check passes, the upgrade starts automatically. The entire process is convenient and quick. Users can enjoy the services of the new version without any additional operation.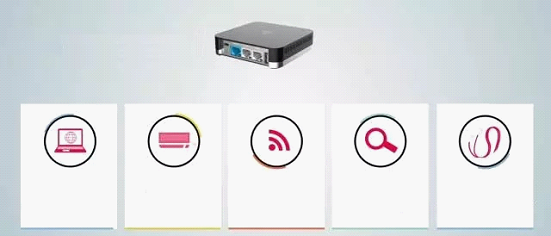 Powerful functions of the smart router
The pace of our life is getting faster, while our bags are getting lighter. In the process of building a smart city, this powerful small box will undoubtedly be a boon for business people.
* Ubiquitous LTE Cat.4 high-speed data services are supported, which ensures faster speed and lower delay.
* Global 4G/3G/2G frequencies are supported.
* Secure and reliable data transmission is ensured.
* Low power consumption and remote wake-up are supported.